Some of the BEST TEACHER sites. Most are free.
-----------------
Thanks, Kathy, Sue, Virginia and Tom! Keep those recommendations coming! We can all benefit from them.
You are vigorously and enthusiastically invited to send in your favorite sites and resources to be share in our next Tech Beat issue.
Tech Ladder Certification
At the beginning of the year, we announced resources to help you complete the technology certification process using the standards listed and posted on our wiki. Several of you stated your desire to match your skills against the requirements for four different levels. Once your skills are verified, you will receive a certificate for the appropriate level so that you may use it in your employment or toward further certification along the technology ladder.
Please contact leecy@coloradoadulted.org to reopen the Tech Ladder process.
Tutorials are listed and constantly being added to help you increase your technology skills on our wiki. Go to http://www.chiresources.org and wear the pearls that await you there! Start showing paper for what you know!
Lunch and Learn (LL)
The next Lunch and Learn session is scheduled for Friday (tomorrow), March 27th, Noon - 1PM. This week's topic is The Role of Technology in Differentiating Instruction.
Our previous LL session had thirteen lively participants who learned how to use Hot Potatoes under the expert guidance of John Jorbacz. His resources and activities, along with all other LL resources are posted on our wiki, http://www.chiresources.org. Thanks John and participants for a fun and helpful meeting!
Upcoming LL sessions will be presented by two different Colorado instructors who are using Moodle and blogs to enhance their students' learning experience.
We have just renewed our state Moodle license, so you might as well know how to use its incredibly robust teaching tools
Look for information on those sessions on Click.
Think Again
Each box represents a different word or phrase sharing a common theme. What are the four words or phrases, and what is the theme?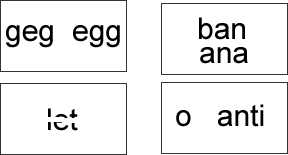 CLICK FOR ANSWER
---
Your feedback, suggestions, questions and error reports are most appreciated! Let us make you famous!