Windows 7
All reports I've received so far on this new operating system, Windows 7, indicate that moving to it is a good bet. Following are three sites that might provide some insight on whether or now your lab might be ready for the move.
Lunch and Learn
Our next Lunch and Learn session will be held on Wednesday, April 29th, Noon to 1 PM. We will examine free and easy Websites that allow your students to cartoon for their pleasure and learning.
Register to attend the session at http://coloradoeducation.wufoo.com/forms/lunch-and-learn-sign-up/. Virtual seating is limited to nine people. You will be sent instructions on joining the session through your email after you sign up. Once I receive your registration, I will send you a link with which to join us.
Feel free to have students attend the session if you have a lab where you can project the session thorough LCD or any other computer projector. Sign up for one seat, and let others attend at your site. You will need speaker to allow everyone to hear the instructions being given.
All materials and links used during Lunch and Learn session are posted on your state wiki: http://chiresources.pbworks.com/, along with a number of other links and ideas. Resources are linked with the most recent at the bottom. Feel free to contact your Resource Center if you need help with any of the computer skills listed.
Citation Machine
http://www.citationmachine.net/
"Citation machine helps students and professional researchers to properly credit the information that they use. Its primary goal is to make it so easy for student researchers to cite their information sources."
INSTRUCTIONS:

Click the citation format you need and then the type of resource you wish to cite.
Complete the Web form that appears with information from your source.
Click [Make Citations] to generate standard bibliographic and in-text citations.
Copy the citation and paste it into your work.
Wufoo No Phooey
http://www.wufoo.com
There are times when you might want to survey your students or staff. Why not use a nifty site, the one used by this Center to register you for Lunch and Learn sessions?
You may have up to five surveys posted for free, and you may take one survey down and enter another in its places at no charge.
The options are many and allow for a large variety of text entries that you find in many surveys.
Simply enter your email contact to receive the responses entered, and you may compile your responses offline.
Who says good things aren't free?
Think Again
What do the images below represent?
1.

2.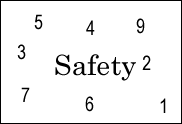 CLICK FOR ANSWER
---