Survey Results
You were invited to respond to the online survey so that we could begin to collaborate on meeting our instructional technology needs in the state. Several of you have responded and listed your tech contact for future communication, and my hat's off to you!

radio.weblogs.com
Families Learning Together/Aprendizaje en Familia/Metropolitan State College of Denver Family Literacy

Focus Point Family Resource Center (Denver)

Right to Read Adult Education Center (Greeley)

Boulder Reads! (Boulder Public Library)

Colorado Mountain College (Glenwood Springs)

South Central BOCES (Pueblo West)

Aurora Language Center, Community ESL

Durango Adult Education Center

SWBOCS Adult Education Program (Cortez)

Center for Adult Learning in Loveland / FRCC

Spring Institute for Intercultural Learning (Denver)
Several of you have offered your labs for training, and we are beginning to schedule some of those sessions. We also have a few people starting climb the Tech Ladder for certification. Yes!!!
If you haven't filled out the survey and would like to become part of this initiative, please go to http://coloradoeducation.wufoo.com/forms/technology-capacity and enter your information with our thanks.
Please be sure to also visit http://chiresources.pbwiki.com regularly and add your resources and ideas as you enjoy those that are now posted. Lots there for you to use with students!
Think Again
1. What word or phrase does the image represent?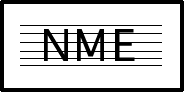 2. Two right triangles share the same hypotenuse AB. The shorter sides of the first triangle are 13 and 18 units; the shorter sides of the second are 7 and 20 units. Clearly, we are not measuring in base ten. What base is being used, and how long is the hypotenuse?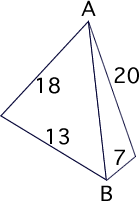 CLICK FOR SOLUTION
---

Your feedback, suggestions, questions and error reports are most appreciated!